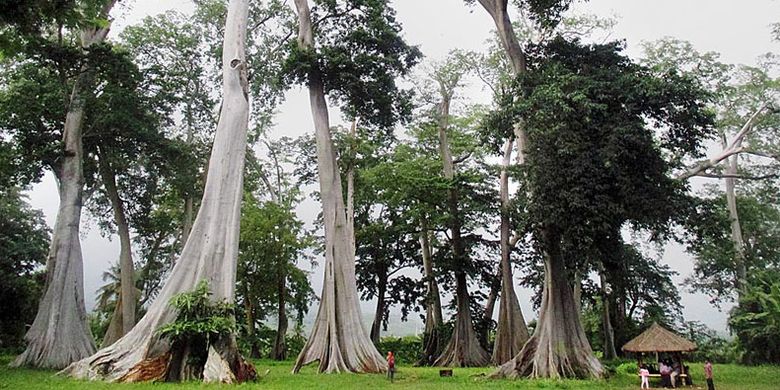 Nature, the ancestral tree stands in Permatan Village, Gunung Malang Village, Pringgabaya Sub-district, East Lombok Regency, West Nusa Tenggara. It became a tourist attraction that attracted visitors, as seen in the second week of February 2017.
Nature Ancient Tree
"We stop at the ancient tree tourism object," said a colleagues in Sembelia Village, East Lombok regency, West Nusa Tenggara. Sunday (12/2/2017) afternoon.
Tree is located Permatan Hamlet, Gunung Malang Village, Pringgabaya Sub-district, Lombok Island northern ring road.
The object is a row of tree stands as high as 40 meters to 50 meters in an open nature.
"The trees are usually the medium of growing bee colony, and the fruit into pigeon forests," said Indriyatno. Lecturer of the Faculty of Agriculture, University of Mataram in Mataram, Lombok.
Tall trees are located on an area of ​​4 hectares and owned by 4 people, although developed into attractions about 1.5 ha.
"In the past the location of the tree was a forest cover," said Dani Mukarrom, Task Force Head of West Nusa Tenggara Forest Service (NTB).
The area was once cultivated cotton in the 1970s. In 1982 the area was converted to plantation crops, then handed over to individual ownership.
Conservation Area from Goverment
"The government of East Lombok regency tried to buy it to be a conservation area considering that the tree is very rare. However, until now has not materialized. Four owners want to make the location as a tourist location, "said Dani.
According to Dani, there are 40 trees in the area. Located about 75 kilometers east of Mataram, the capital of NTB, the area of ​​ancient trees is like a mini wilderness.
The visitors include photographers, young people, and families who come to fill the holidays and take pictures with a mobile phone.
With a variety of styles, visitors moved from tree to tree to take pictures with the background of giant trees.
The roots of the ancient tree reached about 170 centimeters. The circumference of the lower stem is the embrace of three to four adult arms, the trunk is like a cottonwood tree trunk, notched like a cow's neck gelamp. However, the trunk is slippery so the tree is difficult to climb.